Celebrities and those in a position of power are always attending high profile event, both public and private. At these events there are always people seeking to have their picture taken with them, and most of the time if you're the subject you have no ides who many of these stargazers really are. Former President Bill Clinton certainly has the wherewithal to have someone on his traveling staff weed thru the various star seekers, and thus should know better about chancing a picture such as this. We always recommend that no matter your position or station in life and business, you insist on knowing with whom you are posing. While it likely will do little to affect Bill Clinton, it an and will have an impact on those seeking to keep their reputations spotless.
Bill Clinton Porn Star Picture Explained By Brooklyn Lee And Tasha Reign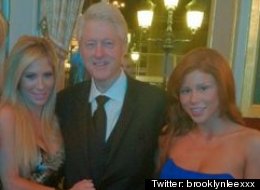 Porn stars Brooklyn Lee and Tasha Reign spoke with TMZ this week to explain the story behind their picture with former President Bill Clinton that took the internet by storm on Thursday.
"We had our own table and everything, dining side by side with Bill, and the prince, and everybody," Lee said of the swanky event in Monte Carlo. "He kind of was looking over at us every once in a while, and we're huge, like, psycho fans of Bill — we just think he's really cute."
Lee went on, claiming that the encounter at the fundraiser for the foundations of the Prince of Monaco and Clinton was prompted by the former president.
"So we end up wandering by, and we were gonna approach him, take a picture, and his Secret Service sort of, kind of brushed us away, and as we were walking away, Bill actually had the Secret Service guy call us back and come over and hang out and take pictures and stuff," Lee said. "He's really, really sweet. I just told him that I loved him, I thought he was a great president, and he just kind of winked and smiled and gave us hugs and stuff."
The adult film actresses also said they had been invited to the gala as guests of Marc Bell, owner of Penthouse magazine and a supporter of GOP presidential candidate Mitt Romney.
On Friday, Bell told ABC News that the whole thing was being blown out of proportion.
"It's unfortunate that a harmless picture has gotten so much play," he said. "It wasn't done for publicity, it wasn't done for malice, it was done because they thought it was really cool to meet the president."
While Lee and Reign told TMZ that they had hoped Clinton had recognized them or at least known their profession, Bell told ABC News this wasn't the case.
"He didn't even know who they were. When he met them, he had no idea who they were. They were there not under their stage names. They were there under their real names," Bell said. "The man had no clue."